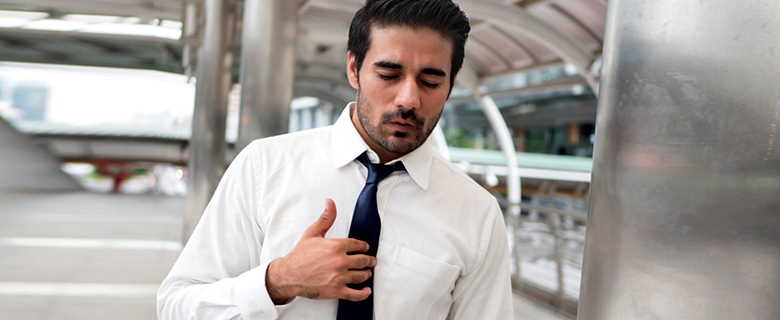 IS ACIDITY TROUBLING YOU? SOLVE IT NATURALLY THROUGH AYURVEDA

Do you often experience heartburns or burning discomfort in the chest or stomach? Is this often accompanied by a sensation of vomiting or a bitter/sour after-taste in the mouth? And, is this commonly felt by you especially after eating certain foods?

Then, you're surely suffering from acidity. Acidity is simply the result of an excessive amount of hydrochloric acid in the stomach. The stomach secretes hydrochloric acid which acts as a digestive juice to break down food particles. If there is an increased level of hydrochloric acid in the stomach, the condition is termed as hyperacidity.

WHAT DOES AYURVEDA SAY ABOUT THE CAUSE OF ACIDITY?

Ayurveda describes hyperacidity as amla pitta. Pitta dosha, characterised by the elemental energies of fire and water, governs agni (the digestive fire) and the stomach enzymes. An increase or aggravation in pitta dosha can bring on a surge of acidity. You may have observed that a pitta-dominant prakruti is more likely to suffer from hyperacidity, heartburns or peptic ulcers.

FIND OUT YOUR DOMINANT DOSHA – VATA, PITTA OR KAPHA

According to Ayurveda, every person is born with a particular Prakruti which is the body's natural state of being. This is determined by the three bio-energies or doshas – vata, pitta and kapha. Your Prakruti depends on the proportion of the three doshas, and is typically governed by the dominant dosha. Some rare people are tridoshic – they will have an equal leaning towards all three doshas. To understand the underlying reasons for your acidity, it's a good idea to figure out your prakruti and identify your dominant dosha.

HOW DO YOU CONTROL ACIDITY?

As per Ayurveda, pacifying aggravated pitta levels can help relieve and prevent acidity. Pitta is usually imbalanced by consuming salty, fried foods, hot, spicy foods, and acidic foods. A few simple diet changes can help balance your pitta, calm your stomach and maintain your digestive health. You should definitely avoid an excess of tomatoes, citrus fruits, yogurt, vinegar, hot peppers, onions, garlic and alcohol.

Here are 6 foods to include in your diet that can help control your pitta and prevent acidity:

6 Foods to add to your diet
to help relieve acidity
ANJIR (FIG)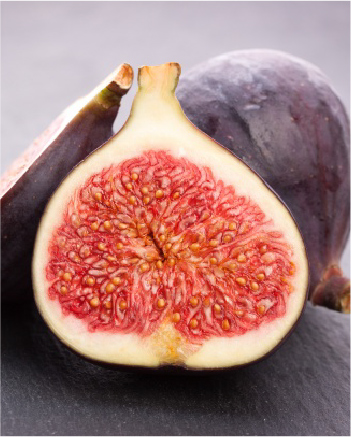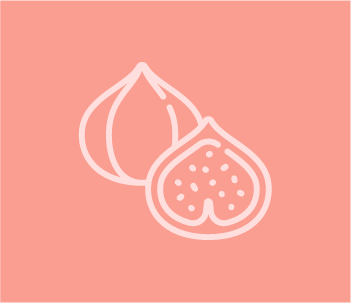 Figs are low in fat, high in natural sugars and soluble fibre, rich in minerals like potassium, calcium, magnesium, iron and copper, and are a good source of antioxidant vitamins A, E and K that contribute to your health.
Figs have sweet (madhura), astringent (kashaya) and cold (sheeta) properties, which help reduce vata and pitta.
The alkaline nature of figs counters acidity and maintains a healthy pH level of blood.
Figs contain prebiotics, which help feed the pre-existing good bacteria in the gut and thus, improve digestive wellness.
The snehana (softening) and mridvirechana (mildly laxative) properties of these fruits help to empty bowels smoothly. Figs can help in treating constipation, indigestion, stomach aches, and various other intestinal conditions.
BLACK RAISINS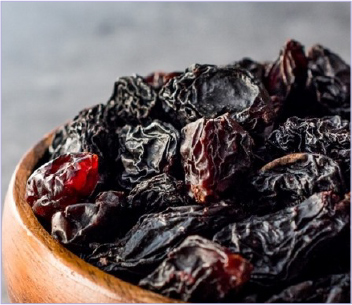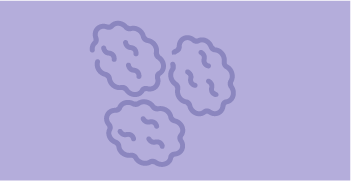 Raisins are rich in fibre, are a good source of B-complex vitamins, and are high in minerals like iron, copper, magnesium and potassium.
Raisins have sweet (madhura) and cold (sheeta) properties, which help reduce vata and pitta.
Raisins help in regulating the body's pH level by neutralizing acidity and its side effects.
The high fibre content in raisins can help treat chronic constipation.
AMLA (INDIAN GOOSEBERRY)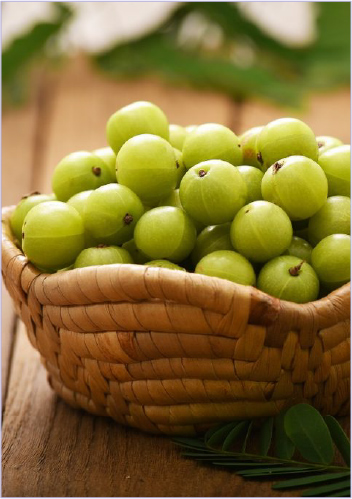 The Indian gooseberry is a very rich source of vitamin A, vitamin C and fibre.
Balances Vata, Pitta & Kapha:
Amlaki predominantly has a sour, astringent taste, a sweet, secondary taste and a cold potency, which is known to balance all the three doshas.
Amlaki reduces the acidity level in the body and its high vitamin C content is beneficial in preventing the formation of ulcers. The fruit provides relief from various gastric syndromes and hyperchlorhydria, which is a burning sensation in the abdomen caused by high gastric acid levels.
Vitamin C combats free radical damage, stimulates collagen formation, enhances normal tissue metabolism and reduces tissue inflammation in the stomach.
Fibre adds bulk to the stool, helps move food through the digestive system, keeps bowel movements regular and reduces the chances of constipation.
Amlaki is Rochan (increases appetite), Deepan (improves digestion), Anuloman (helps in excretion of faeces and reduces flatus) and Amlatanashak (decreases the sourness caused by hyperacidity). It is beneficial in amla pitta (hyperacidity) as it breaks the chain of pathology of hyperacidity as well as provides symptomatic relief.
COCONUT WATER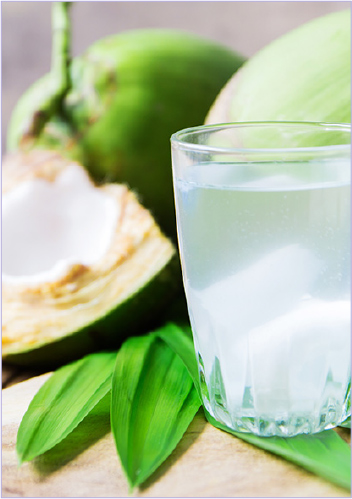 Coconut water is a rich source of potassium and electrolytes, and you should have at least one glass every morning and evening for optimal stomach health.
Tender coconut water is very effective in curing hyperacidity with its pitta-pacifying quality.
Coconut water has an amazing alkalizing effect which balances acid levels, cools the digestive system and helps restore a healthy pH in the body. It helps in treating acid reflux, gastroesophageal reflux disease (GERD) and gastritis.
Coconut water is touted to be an excellent cure for constipation.
Regular consumption of coconut water flushes toxins out of the body and purifies the digestive system.
Its healing properties are highly effective in treating digestive disorders like ulcerative colitis. Coconut water can help soothe the mucous membranes of the colon and the rectum, and thus reduce swelling.
POMEGRANATE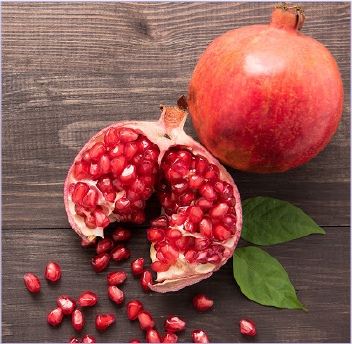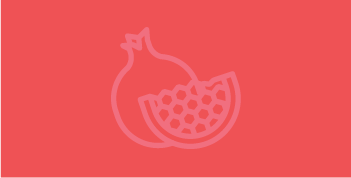 Ayurveda describes three types of dadima fruit (pomegranate), which are madhur (sweet), madhur-amla (sweet and sour) and amla (sour). These properties are pitta shamak (pitta-pacifying).
The pomegranate pacifies pitta and it is agnideepak (improves digestion), which helps break the chain of pathology of amla pitta (hyperacidity).
Maintains Mucous Membrane Health:
Its unctuous properties nourish and maintain the mucous membrane of the stomach in a healthy state.
Its high vitamin A content helps in quick recovery from nausea or vomiting.
GULKAND (ROSE PETAL JAM)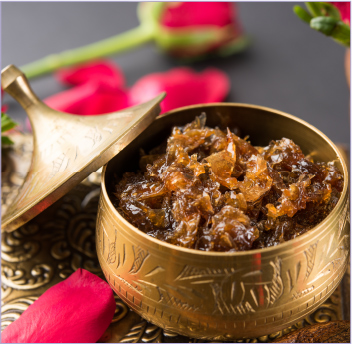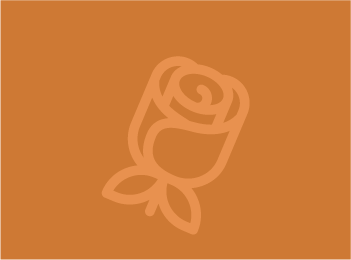 Gulkand is naturally rich in calcium and antioxidants, and helps strengthen all seven dhatus (tissues) of the body.
Gulkand is sweet, cool, pungent and slightly bitter. It produces a sweet (vipak) juice after digestion. These properties are considered pitta pacifying.
Gulkand is considered an Ayurvedic medicine, primarily known for its cooling properties. Consuming 1-2 teaspoons of gulkand reduces acidity and excessive stomach heat. It also helps in treating ulcers and prevents swelling in the intestine.
Gulkand increases the appetite, improves digestion, treats constipation and corrects digestive problems.

The above foods are some of the best remedies for acidity. You can also talk to a certified Ayurvedic vaidya and nutritionist to learn more about a pitta-appropriate diet.

Our team at Mi.Bo.So, consisting of Ayurvedic vaidyas, nutritionists and yoga coaches, is here to guide you. We can recommend an Ayurvedic acidity treatment plan with a proper diet, yoga and meditation routine, stress management, and sleep schedule. By correcting the causative dosha in your body, you'll be able to see the difference in your digestive health yourself.

If you have any queries, feel free to leave a comment below and we'll get back to you!
Tags In
Return to all blogs