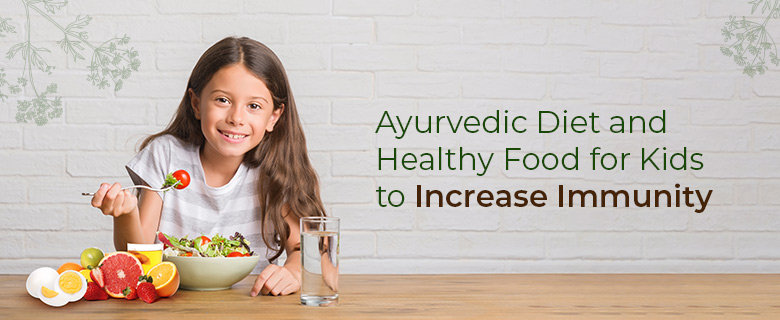 Ayurvedic Diet and Healthy Food for Kids to Increase Immunity
Kids these days are multitaskers. They are studying, preparing for extracurricular activities, and practising some sports. That's what their day plan looks like. But being busy doing so many things is also taking them on the road to unhealthy lifestyle habits. They pick up bad eating habits, consume processed foods, and refrain from eating fresh fruits and vegetables. This affects their immunity and often makes them prone to frequent infections.
Ayurveda offers an alternative medicine for boosting your child's immunity—that is, through an ayurvedic diet plan. Ayurveda for kids enhances immunity and helps prevent various diseases that could affect your child's health in the future. It focuses on balancing many factors like diet, exercise and lifestyle habits. In this article, we will discuss how an Ayurvedic lifestyle can help lay a great foundation of health for your kids.
What is an Ayurvedic diet?
Ayurvedic diet is a traditional Indian diet which helps maintain optimum health by balancing all three doshas (Vata, Pitta and Kapha) in our body through proper food intake. The diet consists of fresh seasonal fruits and vegetables and other foods rich in nutrients that benefit our body and mind.
The best way to improve your child's immunity is to maintain a healthy lifestyle and eat healthy food. Ayurveda for kids helps lessen the chances of infections and allergies. Following these diet and lifestyle tips as a routine will help to build a strong immune system for your child.
Foods To Increase Immunity In Kids Ayurveda
Certain foods can help boost your child's immune system and make them healthier. These include:
Local and seasonal fruits and vegetables

Local and seasonal fruits and vegetables are enriched with vital nutrients that strengthen the immune system. Vitamins and minerals prepare the body to fight seasonal changes and keep your health in the best form by helping you adjust quickly to the local environment.

Whole grains and dry fruits

Whole grains and dry fruits are rich in fibre, protein and good fat, which helps keep the body warm and high immunity. These food items are sattvic in nature, bring balance, promote regular bowel movements, and prevent constipation. They also contain antioxidants that protect cells from damage caused by free radicals.

Herbs and spices

Including herbs like Ashwagandha, Turmeric, Giloy, and Amla improves kids' immunity by many folds. Regular consumption of these herbs in the form of churnas, chyawanprash, or herbal syrup helps your kids to be in their best health.
How does an Ayurvedic diet benefit kids?
According to ayurvedic principles, foods have certain qualities called Gunas (qualities) which affect our body according to their characteristics. For example, sweet foods will increase Kapha dosha (fluids) in the body, whereas sour, salty or pungent foods will increase Pitta dosha (fire). Giving your child tasty but unhealthy food items, such as cakes, chocolates, etc., can lead to excess Kapha dosha in the body, which may increase susceptibility to colds and flu.
An ayurvedic diet focuses on foods that help balance your child's dosha. It also promotes healthy eating habits that will benefit them throughout their lives. Here are some ways in which the Ayurvedic diet can help children:
Improving digestion

Most children suffer from indigestion or gastric problems. This can be treated by following the Ayurvedic diet for kids, consisting of healthy food items that help improve digestion.

Reducing weight

Many children these days are overweight or obese because of junk foods and other processed foods that they consume regularly. This can be avoided by following the Ayurvedic diet for kids, consisting of healthy food items that help reduce weight.

Improving immunity

The immune system is vital in protecting our body from diseases and infections. But due to unhealthy lifestyle habits, their immune system becomes weak, leading to frequent infections such as colds, coughs etc.
Holistic care for your little one
Ayurveda is a body of knowledge that differs from modern medicine. You may need to research to gain more understanding about Ayurveda for kids. Or you can connect with Ayurveda experts at Ayuvi to understand how to leverage Ayurveda for kids and give your child the best care. Visit Ayuvi today!
Return to all blogs